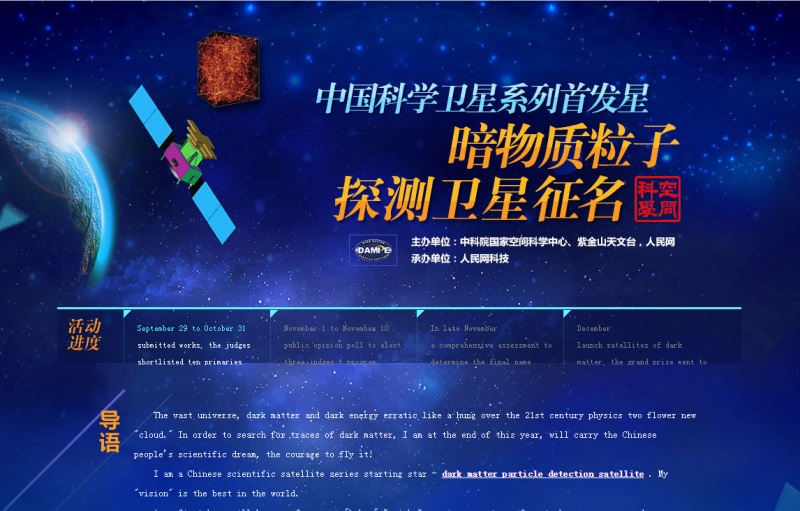 China's public will have a chance to name a dark matter probe satellite expected to be launched by the end of this year, the media reported.
The competition to name the Dark Matter Particle Explorer (DAMPE) was announced at the Purple Mountain Observatory (PMO) of the Chinese Academy of Sciences (CAS) in Nanjing on Tuesday, Xinhua news agency reported.
Entries from any country will be accepted until October 31 and can be submitted online athttp://scitech.people.com.cn/DAMPE.
There will be five grand prize winners, 20 first prize winners, 50 second prize winners, 100 third prize winners, and 500 memorial award winners. Grand prize winners will be able to watch the satellite launch live at the Jiuquan Satellite Launch Centre.
DAMPE will be the first in a program consisting of five research satellites and its development is supported by the space science program of CAS, said Chang Jin, chief scientist of the project and PMO researcher.
Scientists believe dark matter exists based on the law of universal gravitation, but have never directly detected it.
Accounting for over a quarter of the universe's mass-energy balance, it can only be observed indirectly through its interaction with visible matter.
DAMPE looks like an expensive and complicated four-layer cake turned upside down. It weighs 1.9 tonnes and its payload is 1.4 tonnes. The DAMPE project costs $100 million and its lifespan is over three years.
It will observe the direction, energy and electric charge of high-energy particles in space in search of dark matter.
The probe will orbit the earth to study the origin of cosmic rays and observe high-energy gamma rays. Original data from DAMPE could provide solid evidence for the existence of dark matter particles.
DAMPE will have the widest observation spectrum and highest energy resolution of any dark matter probe in the world.